At Cook & Cook we advise individuals, for-profit businesses, and charities as to both potential and actual legal issues in which they are or may become involved.
We handle many aspects of business and personal transactions, such as business formation (Arizona LLC, corporation, & partnership) and business dissolution, real estate and business sales and acquisitions, federal trademark registration, business succession planning (including transfer to family or sale), asset protection, Arizona probate and general estate planning (Arizona will & Arizona trust).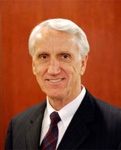 Douglas Cook is a tax, business and estate planning attorney with over 40 years of experience. Douglas has been certified as a tax law specialist by the Arizona State Bar Board of Legal Specialization since the inception of such certification in July of 1991. Before entering private practice in 1977 he served as senior trial attorney in the Office of Chief Counsel for the Internal Revenue Service in the Buffalo, New York and Phoenix, Arizona Districts. He is a member of the State Bars of Arizona and Utah. Martindale AV® Rated Preeminent 5.0 out of 5.0; Selected to 2011 Southwest SuperLawyers.
Featured Practice Area
Federal Trademark Search & Registration
In the United States, an individual or organization can gain certain exclusive rights to use a particular word, phrase, symbol or combination of such, which identify the source of the goods or services provided by that individual or organization, so as to exclude others from using that same mark with related goods or services. These rights are often called trademark (when associated with goods) or service mark (when associated with services) rights.
In general, an individual or business need not register a trademark or service mark with either state or federal governments in order to gain some rights in a particular trademark or service mark; however, there are some significant benefits to federal registration if applied for and actually registered on the United States Patent & Trademark Office's ("USPTO") Principal Register, such as:
The exclusive right to use the trademark or service mark nationwide;
The right to file for an injunction to actually stop unauthorized use of a trademark or service mark;
The right to an infringement claim for money damages;
The right to stop the importation of infringing goods into the United States via U.S. Customs.
Because the rights listed above are so significant, federal trademark and service mark laws impose limitations as to which marks may be registered on the USPTO's Principal Register. While there are other bases upon which the USPTO is required to refuse registration upon the Principal Register, in the absence of acquired distinctiveness or secondary meaning, a trademark or service mark generally must:
Not infringe upon the rights of another registered trademark or service mark;
Not be merely descriptive (or misdescriptive) of the goods or services associated therewith;
Not be primarily geographic (or geographically misdescriptive);
Not be merely a surname;
Not be offensive;
In order to best ensure that a trademark or service mark doesn't infringe upon another registered, or even unregistered, trademark or service mark it is critical to perform a thorough search of federal registrations, state registrations, and common law references. During this search process, it is important to bear in mind the standard by which both the USPTO and federal courts determine whether a particular trademark or service infringes upon another: "likelihood of confusion".
At Cook & Cook, our trademark attorneys advise clients throughout the entire process from trademark selection to search to application and registration. For more information, please visit the federal trademark section of our website.