Arizona probate is a judicial proceeding through which a decedent's will is validated, the decedent's creditors are paid, and the decedent's separate property assets are distributed to those specified in the decedent's will. In Arizona, the probate of a will may occur via three different types of proceedings: formal, informal, and supervised.
What Types of Assets Are Subject to Arizona Probate?
Some types of assets are subject to probate, e.g. cars or personal property, while others are not. Below is a non-exhaustive list of assets that are not subject to probate:
Real property held in joint tenancy with right of survivorship;
Real property held in community property with right of survivorship;
Life insurance;
Bank accounts held in joint tenancy with right of survivorship;
Bank accounts held in community property with right of survivorship;
Individual Retirement Accounts ("IRA");
Other retirement account governed by ERISA.
Why Avoid Probate in Arizona?
Probate is often criticized as being too slow or too costly by companies or law firms trying to sell revocable "living" trusts to clients. While this may be true in some extreme cases, it is often not the norm. On the east coast, probate fees can be a significant percentage of the estate's value; however, this is not the case in Arizona.
How To Avoid Probate in Arizona?
There are various strategies by which a person can structure his/her estate to avoid probate, including holding property in a revocable "living" trust, holding property in joint tenancy, using beneficiary deeds, etc.
Why Not Avoid Probate in Arizona?
Perhaps the single most compelling advantage of probate is the statutory creditor's claim period because four (4) months after statutorily required publication, all against the estate, which are subject to state law, are forever barred. However, it is important to recognize that claims that are subject to federal law, e.g. federal tax liens, are not so barred.
How Long is Probate in Arizona?
The length of time required for a particular probate can vary substantially, however a probate can not likely be shorter than statutory creditor's claim period, which is four (4) months.
What is a Personal Representative?
In order to transfer title to property held in the name of a decedent, someone must be authorized to make such transfers in the stead of the decedent. In many states, particularly on the east coast, the person who is appointed empowered by the probate court to gather the assets of the estate, pay the creditors of the estate, and distribute the assets of the estate to heirs is called an executor or executrix, however, in many western states, such a person is called a personal representative.
Often, the personal representative of an estate is nominated by the decedent in the decedent's valid will; however, if the decedent does not have a valid will there is a statutory procedure by which a person can be appointed as personal representative.
What If There is No Will?
If a decedent has not left behind any legal documents as tho this disposition of his/her probate estate or entities that own assets that would otherwise be in his her probate estate, Arizona law provides a "default" will, so to speak, via Arizona's intestacy statute, ARS § 14-2101, et seq.
What If The Estate is Small?
Arizona's provides a procedure via which estates owning less than $75,000 of personal property or less than $100,000 of real property may administer a probate estate via affidavit whereby the heirs or beneficiaries of a probate estate may agree to collect or succeed to property via personal property affidavit or real property affidavit.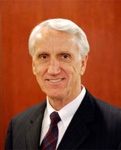 Douglas K Cook is an Arizona probate lawyer with over 40 years of experience as a practicing attorney. Although Douglas K Cook's office is located in Mesa, Arizona, he represents clients throughout the Phoenix, Arizona Metropolitan area including the following east valley cities: Scottsdale, Paradise Valley, Tempe, Chandler, & Gilbert.