Planning Notes
Via this blog we address fundamental concepts and issues relevant to estate planning law (will, trust, probate, asset protection), business law (LLC), real estate law, & tax law. Published by Douglas K. Cook & Steven W. Cook.
June 27, 2014
In American Broadcasting Companies, Inc. v. Aereo, Inc. the U.S. Supreme Court recently held that Aereo's service, which converts and subsequently (re)transmits over-the-air television broadcasts in near real time to Aereo's customers via the internet, effectively constitutes "transmitting performances of copyrighted works to the public", which in turn requires Aereo to pay over-the-air broadcasters a fee for doing so, pursuant to the Copyright Act. Read More»
May 30, 2014
The House Ways and Means Committee approved legislation to make bonus depreciation permanent, as well as a number of tax measures related to charitable giving. Read More»
April 28, 2014
Those people who would otherwise be characterized as resident aliens pursuant to the Substantial Presence Test, who think they qualify for the Closer Connection exception, can file Form 8840 with the I.R.S. Read More»
March 25, 2014
Today, the Internal Revenue Service ("IRS") issued Notice 2014-21 regarding some federal tax prinicples associated with transactions utlizing virtual currency, such as Bitcoin. Read More»
February 17, 2014
An advance healthcare directive, such as a living will, is a legal document that sets forth a person's end-of-life healthcare treatment desires.

Read More»
January 31, 2014
On Wednesday, Presdient Obama signed an executive order directing the U.S. Department of the Treatury to create a new type of retirement saving account called a "MyRA". Read More»
January 2, 2014
While there are over 50 federal tax provisions that expired at the end of 2013, the following are especially noteworthy to many: Read More»
November 25, 2013
A limited liability company, or LLC, is a flexible, unincorporated limited liability entity organized pursuant to state law that is often used to structure both small and large businesses alike. One key characteristic of an LLC is flexibility as to how the LLC is taxed pursuant to federal law. Read More»
October 21, 2013
The Jumpstart Our Business Startups ("JOBS") Act was passed in 2012 to increase business' access to capital. Perhaps two of the most notable provisions of the JOBS Act require the Securities and Exchange Commission ("SEC") to promulgate rules that: (a) provide an exception to "the prohibition against general solicitation or general advertising" for offerings made pursuant to Rule 506 and (b) enable equity crowdfunding. Read More»
October 7, 2013
Section 1031 of the Internal Revenue Code ("IRC") allows taxpayers to defer paying taxes associated with long-term capital gain on the sale of eligible property used for business or investment purposed by "exchanging" such property for like-kind property.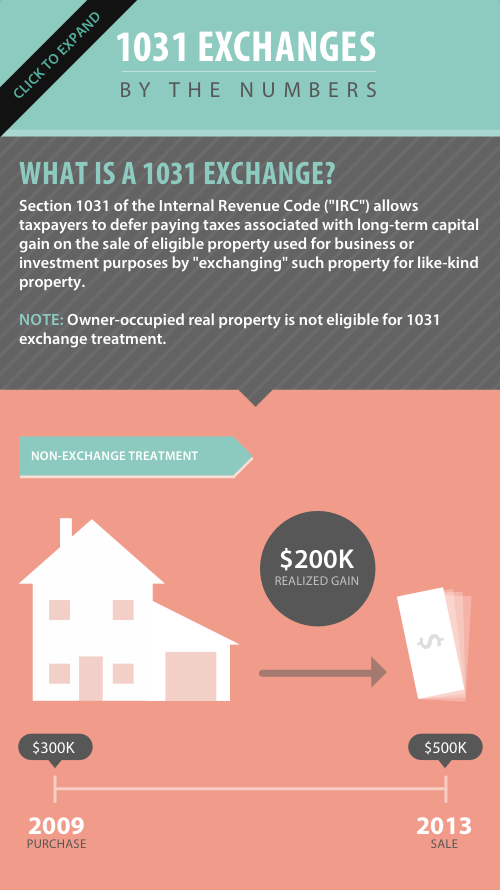 Read More»