Estate planning is the process of, among other things, arranging a person's affairs to: 1) direct his/her medical care during possible incapacitation and 2) direct the distribution and/or management of his/her assets after his/her death.
1) Power(s) of Attorney & Living Will
While there are many different types of powers of attorney, two of particular importance in the context of estate planning along with another document that expresses a person's end-of-life preferences: a) durable general power of attorney, b) health care power of attorney, and c) living will.
a) Durable General Power of Attorney
In the event that a person becomes incapacitated, a durable general power of attorney will permit another, called an attorney-in-fact, to act in that person's stead in regard to most types of matters, with the exception of health care matters.
b) Health Care Power of Attorney
Unlike a durable general power of attorney, a health care power of attorney is limited to health care and health care-related matters.
c) Living Will
A living will is a directive that allows a person to communicate the types of life-saving and life-sustaining efforts that the person would like taken on his/her behalf. Often, a person empowered under a health care power of attorney is required to respect the preferences set forth in a living will.
2) Direct Assets at Death
There are various legal methods through which a person can plan how his/her assets will be handled after his/her death, including but not limited to wills, revocable living trusts, and beneficiary deeds.
a) Will
Perhaps the most basic form of estate planning in Arizona, a will allows a person to specify how his/her assets will be distributed upon his/her death. A will must be admitted to probate in either an informal, formal, or supervised proceeding. Probate is the process by which a will is validated, creditors of the decedent are paid, and distributions are made according to the terms of the will.
In Arizona, a person can also nominate guardians for his/her children via a will. Although, courts are not required to respect such nominations, they often do.
b) Revocable Living Trust
In order to avoid the probate process, some people choose to transfer ownership of their assets to revocable living trusts. Unlike probate, no court appoint is necessary for the person named as a successor trustee to oversee the distribution and/or management of trust assets.
c) Beneficiary Deed
Another way to avoid probate is via a type of deed that automatically becomes effective upon a person's death, i.e. a beneficiary deed. In Arizona, beneficiary deeds are expressly made possible via statute, specifically A.R.S. § 33-405.
This brief overview of some important considerations associated with estate planning in Arizona is by no means comprehensive. Always seek the advice of a competent professional when making important financial and legal decisions.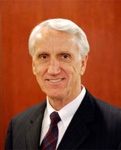 Douglas K. Cook is an Arizona estate planning attorney with over 40 years of experience as a practicing attorney. Although Cook & Cook's office is located in Mesa, Arizona, the attorneys at Cook & Cook represent clients throughout the Phoenix, Arizona Metropolitan area including the following east valley cities: Scottsdale, Paradise Valley, Tempe, Chandler, & Gilbert.